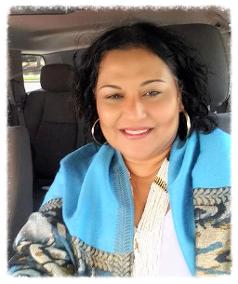 I am a wife a mother and a grandmother of two. I have been called by God to share His word and to be a blessing to others. As a servant of God. I 'm always looking forward for ways to serve. My heart desire is for all to be save and come to the knowledge of Jesus Christ. I rely solely on the Holy Spirit and "His word" as my source and power for His ministry. I believe the best way to bring people to God is to be an active role model and to demonstrate the love of Jesus Christ in my daily walk. My prayer is that this site will be a blessing to you and encourage you to peruse a personal relationship with Jesus Christ.
Mission statement:

My mission is to encourage, empower and help to strengthen those that God entrust me with and to serve with the spirit of excellence, integrity, and compassion. My responsibility and commitments is to share the Word of God and to love people of all ethnic background.
My Vision:
My vision is to impact and encouraged people with the gospel of Jesus Christ. To disciple the lost, create a standard for reaching hurting people, to serve and minister to them with the love of Jesus Christ. I strive to do the right thing and to trust and earn the respect of each person.
My Value:
I am grounded in Biblical principles. I keep my promises and integrity at all times. I believe in treating people with love, dignity, respect, and to provide a positive environment at all times.
My beliefs:

believe in the Father, Son and Holy Spirit, (1 John 5:7; Mathew 28:19) I believe that the Lord Jesus Christ, the only begotten Son of God, was conceived of the Holy Spirit, born of the Virgin Mary (Matthew 1:18, 20) was crucified, died, was buried, was resurrected, ascended into heaven, and is now seated at the right hand of God the Father( Matthew 28:1-8) ( Mark 16: 6, 19)
I believe in water baptism, in the Baptism in the Holy Spirit as distinct from the New Birth, in speaking with tongues as the Spirit of God gives utterance (Acts 2:4), in the gifts of the Spirit, and the evidence of the fruit of the Spirit. I believe that all of these are available to believers. I believe in the Father who is God Himself, Creator of all things, and Creator of the universe. (Gen 1:1; John 1:1)
I believe that Jesus is the Son of God; He suffered, died, was buried, and rose from the dead for our salvation. I believe that Jesus is the Way, the Truth, and the Life. No one comes to the Father except through Him. (John 19, 20) (John 14:6).

I believe that the blood of Jesus Christ atones for our sins and iniquity. It is through His shed blood that we are saved, healed and set free from bondage and the forces of darkness (Romans 5:9-11; Ephesians 1:7).

I believe that every believer must have a personal and intimate relationship with Jesus Christ, for apart from Him we can do nothing. Each person has a ministry from God that no one else can fill. We are to instruct and teach believers in the ways of God (John 15:1-5; Hebrews 13:5-6)
.
My Testimony:
I was born and raised into a Muslim family in the Island of Trinidad and Tobago. While I was growing up I followed the tradition of my ancestors and I lived my life as a Muslim. In my early years, I attend a Elementary Hindu school for my education and I took part in many of their rituals. As I grew I continued to follow the guideline of my parents faith. However, at the age of twelve I had a dream and In my dream I had a visit from my grand father who had passed. As he came to me he told me "to prayer to Christ." After my dream ended, I woke up and ran to my mother to tell her I have seen my grandfather. In our conversation she told me that my grand father was a Muslim and he die as a Muslim. Then she went on to say he will never tell me to prayer to Christ. After we have spoken I was told to go back to bed and with that said. I went back to sleep and I ignore the dream until God brought it back to me as a teenager. At the age of sixteen I was married and later abandoned with child. Months later I tried to commit suicide but, I was unsuccessful in doing so. As I was getting ready to drink poison. I heard a voice and he said, "NO" you are mine! In that moment I became uneasy and threw the poison out and then went to bed with a broken heart. Few weeks later I met one of our neighbor and she questioned me about my sadness and as we spoke she introduce me to Jesus Christ. That day I accepted Christ into my life and I never turned back.